Pickup & Delivery - Please Read!
Cutoff time is 1pm for next-day delivery
Home Delivery
(Min order of $50) 
Bakery Pick-up
(Min order of $20) 
Where Do We Deliver?
Daily: 9km Radius
Delivery Times
Overnight Delivery
Specifc delivery times available for extra cost - contact Customer Service to confirm with us in advance.
NOTE: Not seeing delivery options in your area? Please make sure you've exceeded the $50 minimum order or contact us.
Brooklyn Box Sets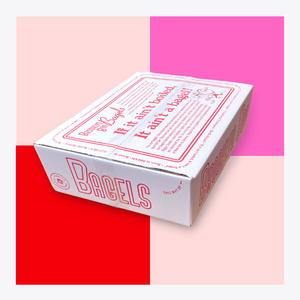 Sugarhill Box
Blueberry, Cinnamon, Chocolate, oh my!
Schmear some joy over your lives, with 2 Cream Cheeses, 6 Bagels and 2 Babka Muffins!
- 3 x Blueberry Bagels
- 3 x Cinnamon Raisin Bagels
- 2 x Babka Muffins 
- 1 x Strawberry Cream Cheese
- 1 x Plain Cream Cheese
Order Now
The Dirty Dozen Box
What's better than one Bagel?
Try 12.
A selection of 12 of our signature Bagels, and 3 Cream Cheeses.
- 2x Everything
- 2 x Sesame
- 2 x Blueberry
- 2 x Jalapeno
- 2 x Plain
- 2 x Poppy
- 1 x Whipped Cream Cheese
- 1 x Spring Onion & Garlic Cream Cheese
- 1 x Lox Cream Cheese
Order Now
Lunch Box
We've got lunch covered with a selection of Bagels, Fillings and Cream Cheeses to share between you and your friends:

- 2 Everything bagels
- 2 Jalapeno bagels
- 2 Poppy bagels
- 1 Smoked Salmon
- 1 Pastrami
- 1 tub of Lox Cream Cheese (200g, serves 4)
- 1 tub of Garlic Cream Cheese (200g, serves 4)
Order Now
Build Your Own Survival Kit